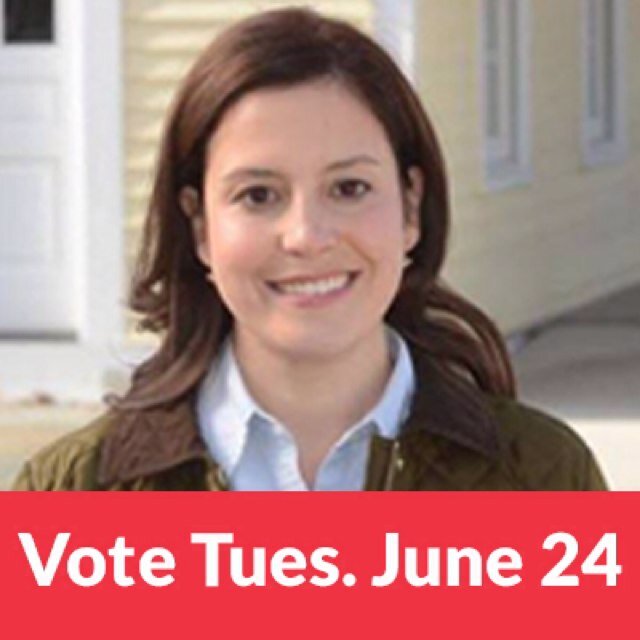 "My generation is going to have to clean up this mess," Stefanik said of government debt and spending
LLPH is proud to recommend Elise Stefanik for New York's 22nd Congressional District. The election is tomorrow and it is important to get out the vote for her. She is running against a liberal Republican who is known to be weak on the issues and who has lost two times. Her fresh voice as well as her being a millennial (29 years old), are all pluses that give us the confidence she can win back this district.
Elise Stefanik is willing to buck those in her party's leadership, even with the endorsements of several of them such as Rep. Paul Ryan. 
That said, Stefanik challenged Doheny on whether he would have voted the budget agreement struck last winter between Ryan and Senate budget committee chair Patty Murray.

"Would I have voted in favor of it?" Doheny responded. "I don't know. Probably."

That gave Stefanik the opening to respond "I wouldn't have…because for all the families based at Fort Drum and for all the military veterans, that deal cuts veterans benefits."

http://www.wwnytv.com/news/local/Doheny-Stefanik-Spar-But-Agree-260852051.html
She has the courage to lead and fight for conservative principles. This is what LLPH's friend Doug Hoffman, conservative and tea party candidate in 2010 against another liberal Republican stated this when he endorsed Elise Stefanik:
"I think she's a terrific candidate, well-educated, [with] good experience in Washington that will help her when she gets down there to open doors and get the job done," Hoffman said in a phone interview. "I like her stance on just about all the issues. I can't think of any that I don't agree with her on. She's a commonsense conservative Reagan Republican. I think she's going to be a candidate that can unify the Republicans, the conservatives, and the independents." 

http://www.weeklystandard.com/blogs/ny21-doug-hoffman-endorses-elise-stefanik_774757.html
We are proud to recommend Elise Stefanik for New York's 22nd Congressional District. This district has a Cook PVI of R+2. It was formerly held by a Republican until 2010 when a conservative and liberal Republican split the vote leading to Rep. Bill Owens win (he is retiring this year).
It is time for a new and fresh voice in Congress. Time to send Elise to victory tomorrow! 
Elise's Website: http://eliseforcongress.com/