LLPH is pleased to announce some endorsements for the upcoming primaries this midterm election as well as name a few fellow travelers that we will be supporting for this midterm election 2014. 
ENDORSEMENTS:

 Rep. Todd Rokita (R-IN 4) has been doing a good job in Congress. While his score is a little low, his activism in fighting for civil liberties, against the Patriot Act and the NSA gets him an endorsement from LLPH. He is also a member of the Liberty Caucus in Congress. His opponent in the primary supports extending unemployment benefits and quotes the liberal mantra about "extremists".

 Mike Steinberg is running for North Carolina's 9th Congressional District against Rep. Robert Pittenger. LLPH used to support Rep. Pittenger until he became a go-along, get-along politician. Rep. Pittenger promised to fight Obamacare, but when he got to Congress, he preferred to do the political expedient thing and oppose any REAL efforts to fight this law. Also, Rep. Pittenger voted against the Amash NSA limitation amendment. Mike Steinberg will be different; he will fight Obamacare and stand up for our civil liberties as well as truly fight against our ever increasing debt. Time to send Pittenger home and Steinberg to Congress! 
 Richard Lynch is running for North Carolina's 10th Congressional District against Rep. Patrick McHenry. Rep. McHenry isn't bad, but the conservative nature of his district suggests that he should be fighting harder for conservative values and he just is not meeting those standards. Richard Lynch will fight for civil liberties, oppose nation-building, and get serious about our national debt. We need new, fresh blood in congress.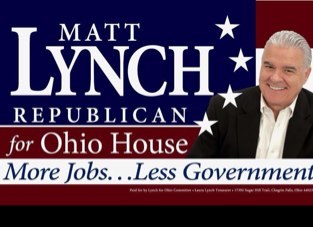 Matt Lynch is a state representative running for Ohio's 14th Congressional District. The incumbent, Rep. Dave Joyce, is a radical leftist Republican who was the handpicked candidate in 2012 by the worst RINO in town and hater of conservatives, Former Rep. Steve LaTourette. Matt Lynch has fought the establishment by opposing the Medicaid Expansion and he is endorsed by Freedomworks and Ohio Right to Life. We need Matt Lynch in Congress! 
 John Ratcliffe is headed to the run-off in Texas 4th Congressional District. The incumbent, Rep. Ralph Hall, has been in congress for more than 30 years and it is time for new blood that will fight for conservative principles. George Washington served 8 years and left. Rep. Hall has joined the establishment and John Ratcliffe is ready to build a better America in Washington D.C. John Ratcliffe has been endorsed by the Club for Growth and Madison Project, and he has also stated he will not vote for Speaker Boehner. This is a top race and the run-off is May 27, 2014 so it is urgent that John Ratcliffe gets the help he needs. Let's build a stronger America with the next generation of conservative leaders.